When it comes to measuring and marking your wood, nothing can be more accurate than using the correct type of tape measure—but with all the different types on the market, it can be hard to know which one to choose! This guide will help you find the best tape measure for woodworkers of all skill levels by giving recommendations and tips on choosing one that works well with your needs and lifestyle.
Best tape measure for woodworkers: finding the perfect fit
1. FastCap Lefty/Righty 16′ Tape Measure
It features a white disc on the face that resembles a dry-erase board where you can write dimensions or notes and erase them later. This makes it unique, especially if you easily forget things.
Another great feature is that it has measurements on both edges, so you can read it from left to right or right to left. Plus, it has an automatic blade lock that prevents the blade from slipping or releasing the tape prematurely when extended. You'll also appreciate the built-in pencil sharpeners and the ergonomic belt clip, which attaches securely to your belt or tool belt. Also, it's long enough to be helpful but compact enough to keep in an apron pocket.
The blade is made of strong Alloy Steel, which prevents corrosion, and has a rubberized grip that makes it easy to hold and use. This tape has a one-inch wide blade with a four-riveted nose clip that can withstand daily wear and tear. Plus, the large, easy-to-read numbers make measuring quick and accurate. The scale is identified down to 1/16′′.
Most customers say this tape measure is among the best they have ever owned, and there are very few complaints about it.
2. Stanley 33-425 tape measure
Its blade is coated with mylar so it can withstand heavy use, and it has a generous 25-foot length that's perfect for measuring larger pieces of lumber.
The blade is marked with both inches and centimeters, so you can easily make precise cuts. Also, an important feature is the blade lock feature, which ensures precise measurements and minimal slippage; When you release it, the blade automatically retracts. Additionally, it has a 1-inch wide blade for easy reading and 16-inch and 19.2-inch stud center markings, making it ideal for framing jobs.
This tape can withstand falls due to its chrome, high-impact ABS case. Another great feature is the blade's Tru-Zero end hook. It also acts as a pivot, so you can use it to draw circles and arcs that automatically adjust to handle inside or outside measurements accurately. This means that the hook ends with a small amount of play equal to the thickness of the blade. This is so that the front end of the hook is at the zero point within the stop when measuring with the hook (e.g., window jams).
We also love how lightweight this tool is; at just 0.06 pounds, it won't be too heavy to carry around all day. This is one of the best options for use at home or by a professional at work.
3. CRAFTSMAN Tape Measure
It's made with a durable steel case and has a self-locking mechanism that makes it easy to use. Plus, it's backed by the CRAFTSMAN name, so you know it's a quality product. The company has been in business since 1927, making high-quality tools and hardware.
The tape is also a good choice if you're looking for an affordable measuring tool that will satisfy you. The tape measure comes in a metal case and can be easily locked in place at any point along its length. Thanks to the self-lock mechanism lock type, where a metal spring extends automatically, a metal lock locks the tape measure's end into place at your desired measurement. It stays in that position until you press the release button, disengaging it and allowing it to retract easily. This prevents the hook from slamming into the case and will enable you to move on to your next measurement. Also, it makes the tape both user-friendly and longer-lasting.
Another added advantage for anyone with poor sight is that the tape is white, making it easier to read than yellow. Every inch is black at the top of the tape, and every eighth increment is red at the bottom. Every 16″, there is a red block with a stud reference.
One downside of this model is that it doesn't have a blade cover or tip protector; these are features found on some more expensive models. However, this is a good choice if you're looking for something sturdy without breaking the bank.
Comparing lock type, blade durability, and Blade length
Factors to consider when choosing a tape measure
Here are some features to consider when looking for a new tape measure:
Accuracy of the tape
When it comes to working with wood, accuracy is critical. The last thing you want is to make a cut that needs to be bigger or bigger. That's why finding an accurate tape measure is so essential for woodworkers.
Here are a few things to keep an eye out for when choosing a tape measure that'll be able to deliver accuracy in your work:
-The number of inches on the outermost edge should match exactly the number on the innermost edge. If they do, measurements may be consistent (i.e., there could be a one-inch discrepancy).
-The tape blade should also be strong and not bend easily. It should either be made from fibreglass, steel, or stainless steel.
-find information about the accuracy class and manufacturer on the tape measure because Measurements, no matter how small, always involve a measurement error. The accuracy class will indicate the measurement error – the smaller the error, the better the tape measure.
The tape measure's length
The length of the tape measure is essential for a few reasons. First, you must ensure that the tape measure can reach the total size of whatever you're measuring. Second, you must consider how easy it is to read the measurements. The longer the tape measure, the harder it can be to read the markings.
The best length for most people is 25 feet, giving you enough space and accommodating your needs without being overly cumbersome.
Type of locking mechanism
There are three main locking mechanisms for tape measures: thumb lock, slide lock, and button lock. Each has advantages and disadvantages, so selecting the best one for your needs is critical.
The thumb lock is the most common type of locking mechanism and is also the easiest to use. The slide lock is more secure than the thumb lock but cannot release quickly.
The button lock is the safest option, but it can be challenging to operate with one hand. It also requires two hands to unlock, making it inconvenient when you're trying to read measurements in awkward positions.
Also, for the new generation tape measures, we have an automatic lock that locks itself automatically when the blade is out. These tapes with mechanical locks are replacing the manual ones.
Measurement system
There are three main types of measuring systems used on tape measures: imperial, metric, and fractional. In the United States, imperialism is the most common system, whereas metric is more common in Europe and Asia. Some professionals use fractional measurements, but they can be confusing for beginners.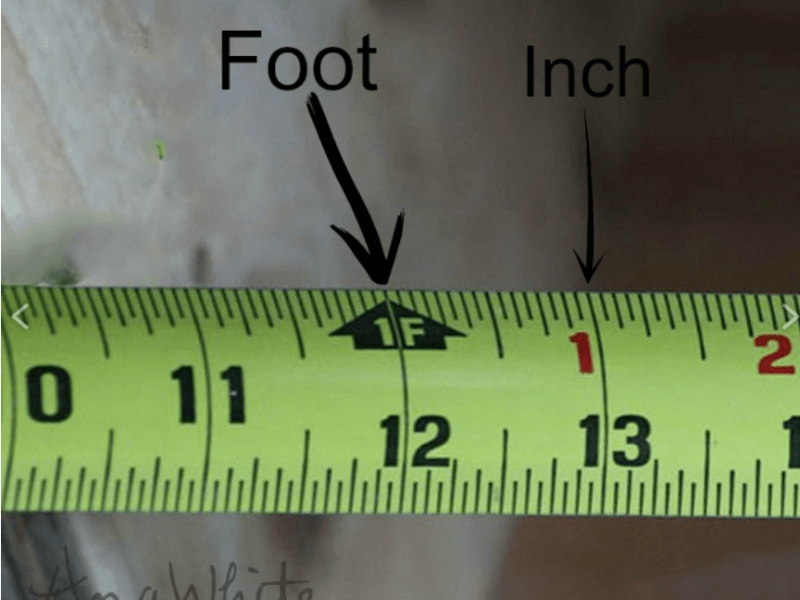 The imperial measurement system includes both inches and feet, whereas the metric measurement system includes meters and centimetres. Some also have both imperial and metric measurements, so if that is important, check before you buy.
Summary
After researching and testing a few different options, we've concluded that the best tape measure for woodworkers is the FastCap Lefty/Righty 16′ Tape Measure. It's durable, accurate, and easy to use, making it a great choice for any woodworker. Plus, its affordable price makes it an excellent value for your money.
If you want something with a more elegant look and one that can withstand falling impact, the Stanley 33-425 Powerlock 25-Foot by 1-Inch Tape Measure would be an excellent option.
Finally, go with the Craftsman tape measure if you want something with a clear reading. The blade tape is white, with bold red and black readings that are easier to read than yellow.