Floating shelves are a good addition to any wall space. They offer extra storage space and add aesthetic appeal to any bare wall because of their modern design. However, the success of your floating shelf installation largely relies on your choice of wood. Detailed below are several best wood for floating shelves to consider.
What to Consider When Choosing Wood for Floating Shelves
Whether you need additional storage space or simply want to add aesthetics to your living space, there are particular wood qualities you need to consider when installing floating shelves. Weight capacity is arguably the most crucial factor.
To avoid collapsing, it is best to go for wood that is heavier than the items you intend to store on the shelf. Solid woods, especially hardwood, are ideal for holding heavyweight objects, while manufactured composite woods are good for holding lightweight objects.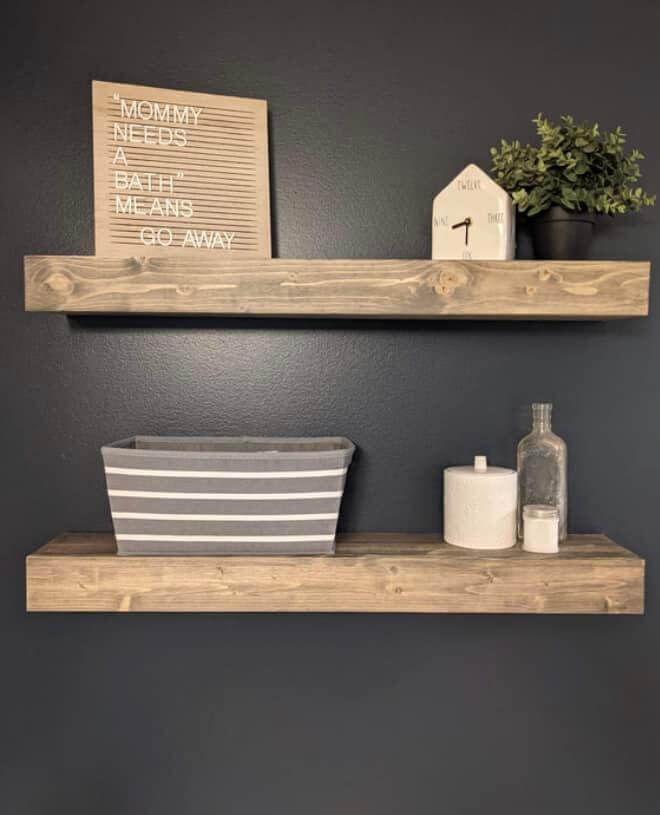 It is also important to factor in the wood's length. Before deciding on the material to use, measure the length of the wall space, you plan on installing the floating shelf. Make sure you get wood that fits that exact length but keep in mind that floating shelves tend to appear smaller once installed.
Other factors to consider include durability, price, and aesthetics. The best wood for your installation should be available within your budget and sturdy enough to withstand exposure to shock, water, or insects. Also, ensure the wood complements your intended wall design for an attractive finish.
What is the Best Wood for Floating Shelves?
When picking the best woods for floating shelves, pine is the cream of the crop. Compared to other wood options, pine is the least expensive and is very easy to find in the market. Additionally, it has an impressive Janka hardness rating of 870, making it one of the sturdiest options with the ability to hold objects weighing up to 50 lbs.
Pine is the best wood for floating shelves
Woodworkers also prefer pine over other wood types due to its malleable and soft nature, making it easy to work with. It is an easy material to nail, carve out wood joints, or chop. Its light brown color also gives pine natural beauty, making it an ideal pick for home décor.
How Thick Should Wood For Floating Shelves Be?
The gold standard for homemade or commercial floating shelves is around 2 inches. This size is neither too heavy for walls nor too light to hold medium to heavyweight objects. More importantly, this thickness makes floating shelves look attractive since it does not appear too bulky.
Other Good Woods for Floating Shelves
Walnut
Walnut is also a great choice for floating shelves. This hardwood variety has a Janka rating of 1010 lbf, making it one of the strongest wood materials available. It also features a straight-grained texture with a golden brown finish that is guaranteed to give your shelf an appealing antique look. On the flip side, walnut is a rare wood and is a bit on the dear side when it comes to price.
Mahogany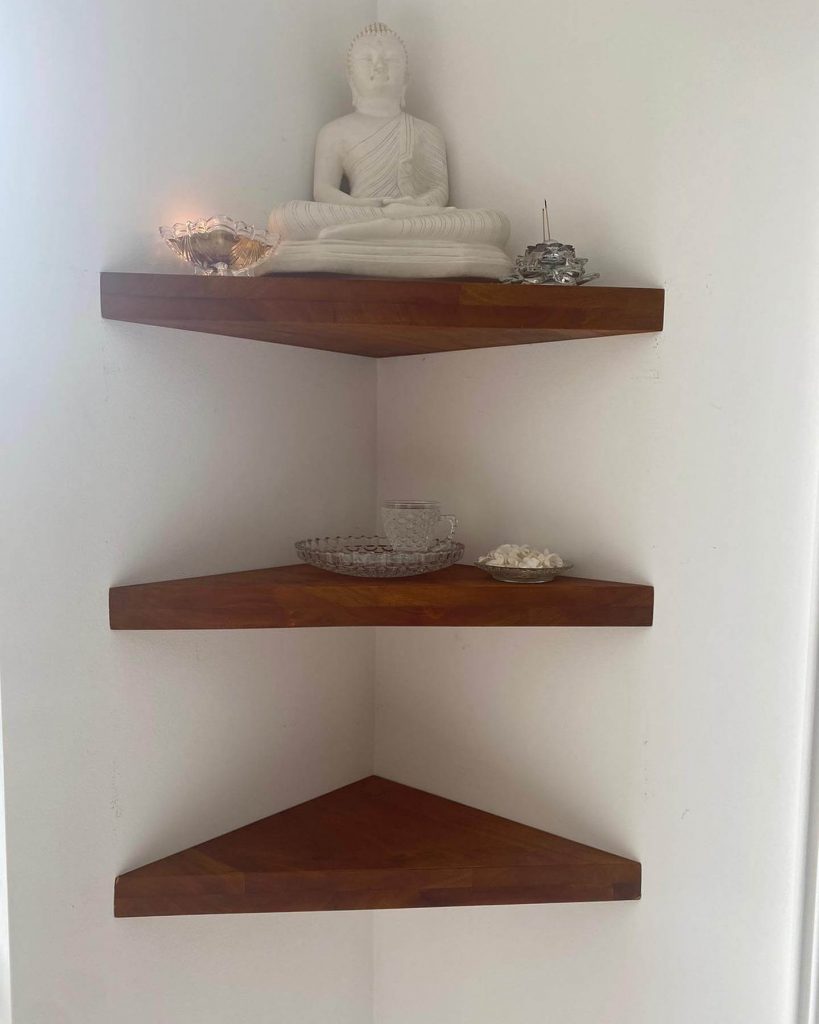 Another great hardwood variety for floating shelves is mahogany. It features a Janka hardness rating of 900 lbf, giving it a sizable weight capacity of 65 lbs. Longevity and durability are standout features of this wood as its hardness enables this material to withstand scratches, shocks, and dents. Mahogany also has aesthetic appeal due to its straight-grained patterns and reddish pink hue. However, like walnut, mahogany is very expensive and has limited availability.
Red oak and tigerwood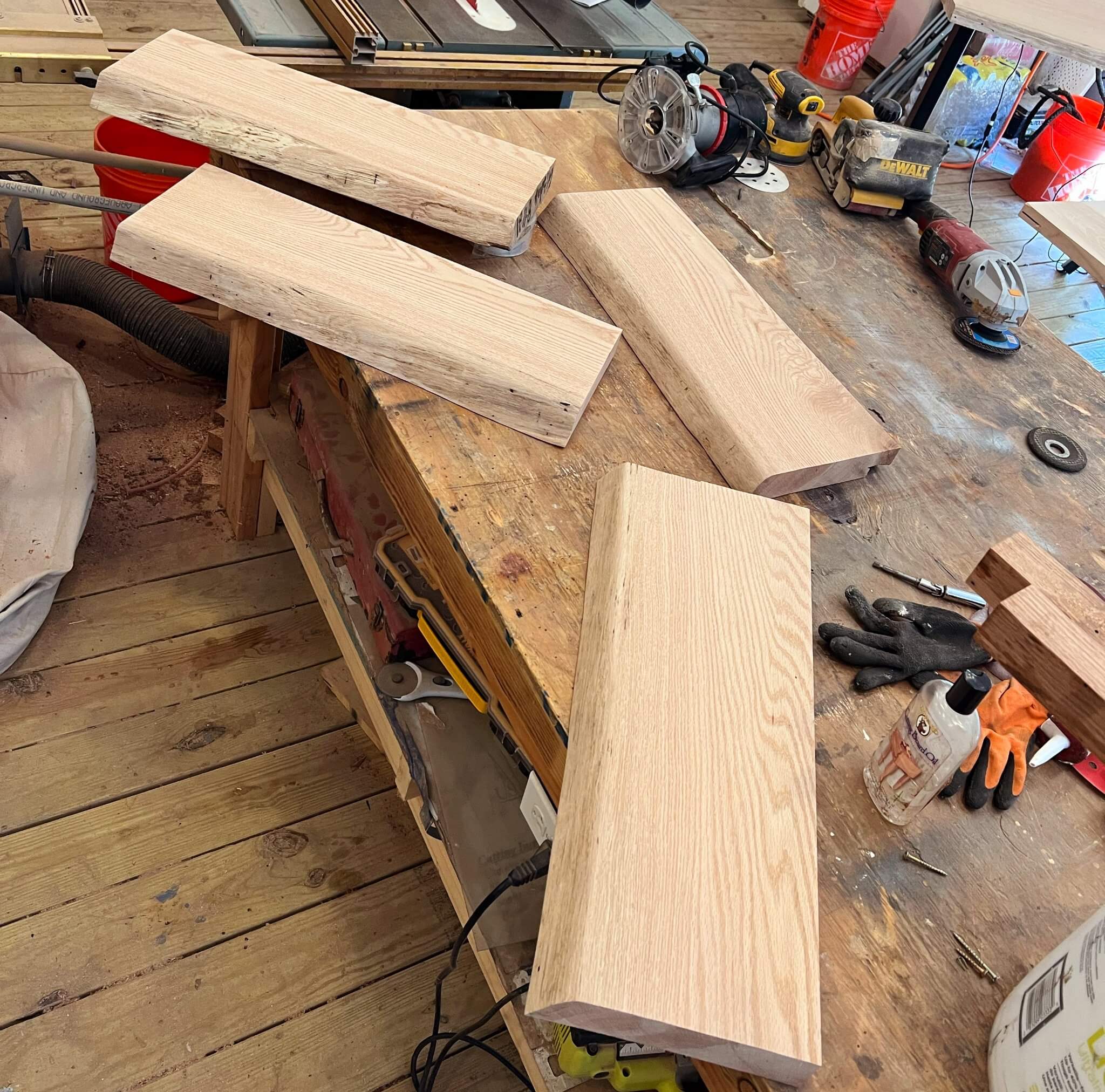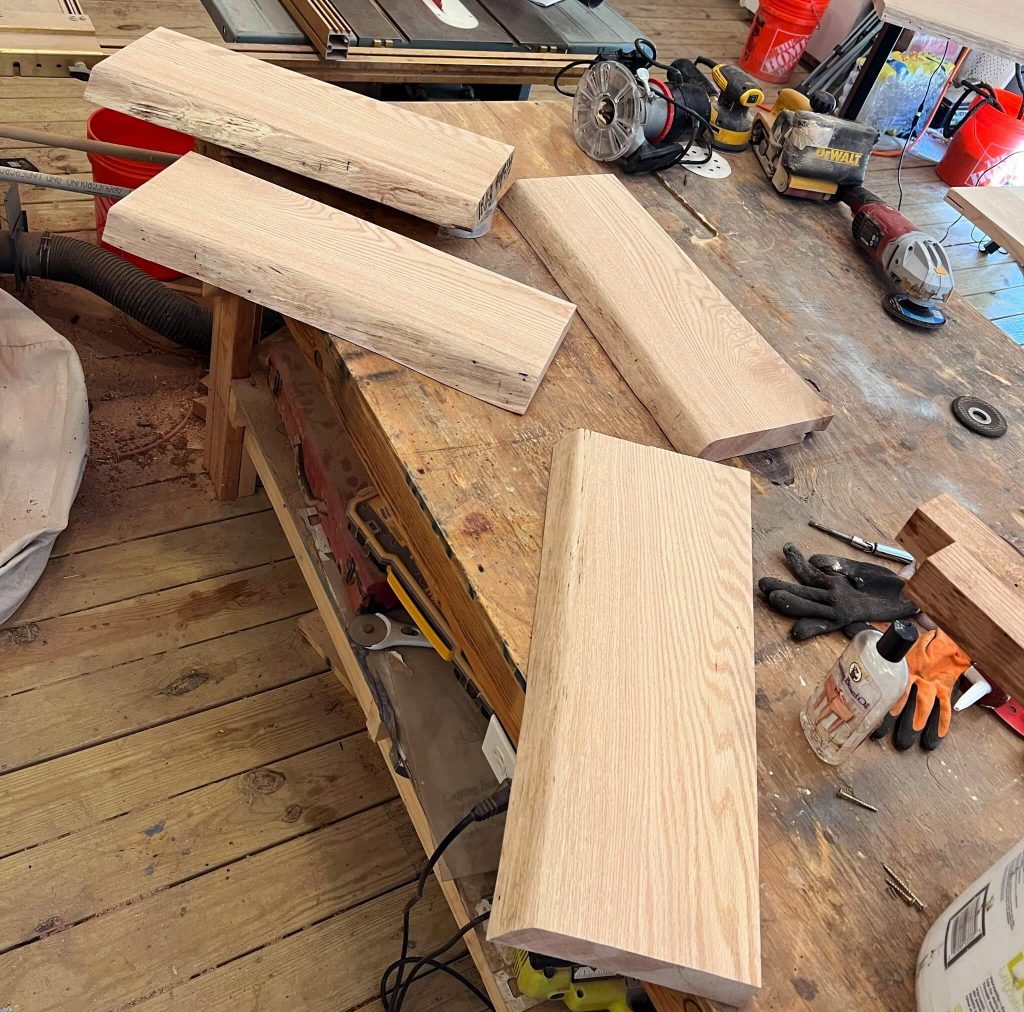 Other wood types worth mentioning include red oak and tigerwood. Red oak is a versatile and strong hardwood that absorbs polish or paint easily without bloating. However, it falls short of the standard durability requirement as it tends to blacken when exposed to moisture. Tigerwood, also known as Koa, is a moderately weighty wood material with a unique interlocking grain pattern for a natural, curly appeal. It is weather-resistant and comes in a dark brown hue that does not need staining.
Summary: woods for floating shelves
Floating shelves are a great alternative to dull, traditional cabinet designs. They offer extra storage space, are easy to install, and add aesthetic appeal to your living area. However, you need a strong, durable, and affordable wood that complements your style. Given these considerations, pine is the best option. Red oak, walnut, koa, and mahogany are also befitting alternatives for floating shelves.