A wood lathe is an essential tool in any woodworking shop, as it allows you to turn larger pieces of wood into smaller, more manageable pieces that are easier to work within your project. This can be as simple as turning a larger chunk of wood into smaller bowls and plates, or it can be the basis of an entirely new project like building furniture or small sculptures and figurines.
However, buying a wood lathe is not quite an easy task. There are many types and varieties, so deciding on the best wood lathe for your needs is quite an uphill task. Nevertheless, when you are looking for a lathe, you should consider the quality and the budget.
Therefore, if you're looking to buy your first lathe or upgrade from an older model and you are on a tight budget, check out this list of the best wood lathes under $500 on the market today to help you find the perfect tool for your project needs.
Best wood Lathe under $500 – our top picks
The selection criteria that we used
Here are a few of our top criteria when making these selections:
Affordability: At first glance, some may assume that all wood lathes are expensive and out of reach for hobbyists and beginners. However, we believe there's a great range of price points from which to choose. You don't have to spend thousands of dollars to get a fantastic machine for your workshop or home.
Quality: The quality differences between budget-friendly options and high-end machines can be significant. Some companies specialize in cheaper materials with low-quality standards, while others are focused on durability and longevity. In our guide, we have chosen wood lathes of high-quality standard and, at the same time, are budget-friendly.
We aim to give you as much information as possible to decide what will work best for you. Some people want a more basic option at a lower cost, while others look for versatility and features. Remember that one person's idea of basics might not match yours, so it's important to know what you're looking for before buying. Regardless of your needs, we hope this list has given you an idea of where to start shopping! Happy hunting!
Now onto the reviews…
Best wood Lathe under $500- Review
This machine will be an excellent addition to your workshop's power tools. It is intended for minor projects that require less energy. You may use this lathe to make cups, bowls, pens, chess pieces, and coffee table legs. It can also be used for broad applications as well as precise cuts. With a very attractive price tag, this is our best wood lathe under 500.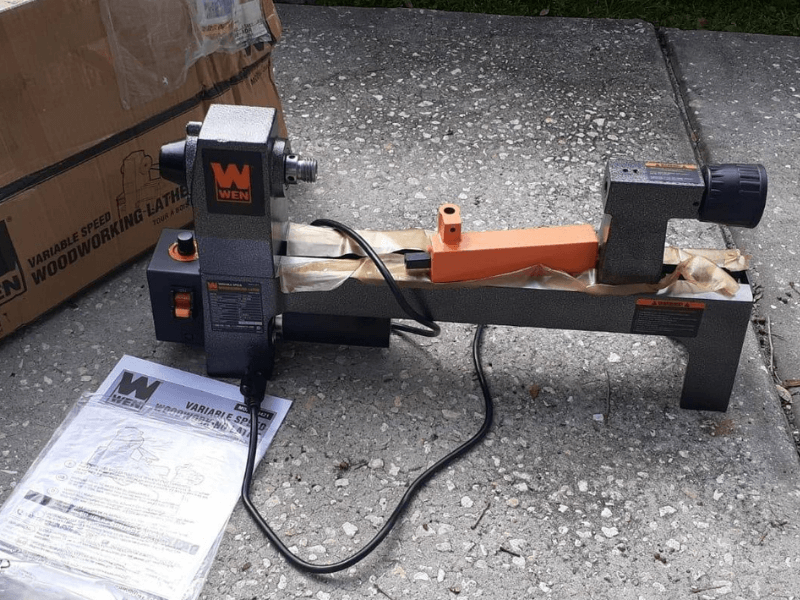 Key Features
It has a 12-inch DBC (the distance between the headstock and the tailstock) and an 8-inch SOB (the measurement used to estimate a piece of wood's maximum diameter before you can no longer turn on a wood lathe) and weighs only 45 pounds.
It has a 3.2 amp motor that provides over 50% more power than each lathe for your projects
it has a variable knob for adjusting the speed motor from 750-3200 rpm.
It's light, easy to store when not in use, and suitable for small working areas.
The base is made of solid cast iron, which is necessary when working because it reduces vibrations.
It is equipped with two rest of four and a half inches and seven inches.
The weaknesses
However, several customers have expressed dissatisfaction with the lathe's locking mechanism, which becomes loose after a few uses, and the lack of mounting holes to permanently secure it to any surface.
It also shakes if the surface is not completely straight.
The Overal Performance
The machine is over 50% more productive than others in its class. As a result, although designed to handle smaller projects, it does a great job of ensuring the results are perfect, and it is, therefore, our overall best wood lathe.
This may be the right choice if you're looking for something a little more advanced than your average beginner's lathe.
This mini wood lathe is ideal for little tasks and fits on your workstation.
Key Features
It has a full cast-iron structure that reduces vibrations and increases stability as you work.
It weighs only 52 pounds.
The ⅓ horsepower motor powers the tiny wood lathe with a 5¾-inch faceplate.
It has two tool rests, one of which is seven inches long and the other four and a half inches long.
It allows you to select any speed between 700 and 3,200 rounds per minute, which means that you can use it on different projects such as pens, cups, and chess pieces.
The capacity of this machine is 12 inches DBC and 8 inches SOB.
The Weaknesses
Some customers have stated that setting up the lathe is difficult. They find it time-consuming to adjust and align the headstock for the first time and that it does not line up with the first try.

 It also demands regular alignment monitoring, as the first alignment may not stay long.

Also, the bolts that attach the locking plate to the bed get loose easily and must be tightened regularly.
The overall performance
Most of those who tried and tested the efficiency of these wood lathes were especially pleased with their effectiveness in turning pens and other small projects. As most suggest, it is great for people to begin their way into woodworking. It is compact and durable, though smaller in size.
For a while, hobbyists have been asking us to look at JET's line of small but powerful benchtop wood lathes. We finally pulled one into our shop to see how it was stacked against competitors. We also noticed that you don't need to invest in a professional-grade machine to make beautiful pieces. This 10 x 15 JET model features a very solid bed and long bedways, making it ideal for large pieces of stock or projects that require long, continuous cuts.
With more than 100 Amazon reviews averaging 4.7 stars out of 5, it's easy to see why so many woodworkers are choosing the JET as their first lathe or adding one to their workshop. If these smaller lathes have tempted you but don't want to compromise on quality, check out the JET JWL-1015. It's a great deal at just over $300 shipped from Amazon.
Key Features
It has variable speeds that range from 500 up to 3975 RPM.
The electronic variable-speed control helps you achieve an optimal rate of speed on any project.
The universal spindle mount allows you to use a range of accessories with ease and stability.
Its weakness
It weighs 77 lbs which could be heavier for some people.
It has a 1/2 HP motor which may be unable to complete even the most limited medium-sized work. To reduce material to the desired size, you must use medium speeds.
Overall performance
Before reviewing this product, we tested it to determine whether it was worth the price and would meet our expectations. Our test pieces were turned easily, and the company's reputation for quality is reflected in this affordable machine. Therefore, if you're looking for an entry-level wood lathe, then the JET JWL-1015 should be on your shortlist. It is solidly built, capable of precision work, and will last for years if treated properly.
Mophorn's Bench Top Wood Lathe is a unique and convenient machine that allows you to turn large pieces of wood into fantastic art pieces. It has a solid cast iron construction and is an excellent choice if you're looking for something sturdy with a heavy-duty design that will last you a long time. This awesome little machine also comes at an extremely affordable price. Its quality and price may be one of the best value buy around.
Key Features
Its variable speed that you can adjust between 760 and 3200 RPM.
The machine has five-speed settings, so you can choose how quickly or slowly you want to turn.
Since a 370W motor powers it, you can use it for more heavy-duty projects and larger pieces of wood. The motor has been set up to start gently for safety reasons and to minimize noise.
It is made of cast iron, which ensures stability and smooth operation.
The tool rest height can be adjusted as needed, making it easier to find the perfect position for your project.
The small size makes it easy to move around and store without taking up too much space in your workshop.
Some of its weaknesses
The only downside of this machine is that it doesn't come with any turning tools or accessories, so you have to buy these separately. The downside isn't anything major, though – even the cheapest turning tools are fairly inexpensive, and this way, you can choose whatever ones suit your needs most!
Overall performance
You might not have all the bells and whistles other models have, but this one does its job well at an affordable price. It is ideal for anyone who wants to take up woodturning as a hobby. It's also great for anyone who needs a heavy-duty wood lathe that they can use on their own time, without worrying about finding help when they're done using it.
If you're looking to get into woodworking and don't want to spend too much money, you can't go wrong with a mini lathe. This RIKON 70-100 12-by-16-Inch Mini Lathe is great for turning small projects and offers a surprisingly powerful motor. With its sturdy construction, impressive design, and smooth functionality, you can't go wrong picking up one of these sweet machines. It's also very portable, making it the perfect tool for beginners.
Main features
It is compact- which means it takes up very little space in your shop when not in use—perfect if you have limited workspace available!
Its 1/2 hp motor provides enough power for your projects without breakdowns.
The Mini Lathe's easy-access speed change feature allows you to quickly change speeds ranging from 430 to 3,900 RPM.
This lathe also has the ability to add multiple extensions
It includes several accessories (such as a faceplate, drill chuck, and more) so you can get started as soon as possible
It runs quietly and has no vibration; therefore, it is stable even on the workbench
some of its weaknesses
You can only make round objects on this machine.
overall performance
This tool functioned as expected. If you have more advanced skills or want to turn larger pieces, you might be interested in one of the larger Rikon models. However, on a budget, I recommend this Rikon mini-lathe for basic woodturning jobs. When I first started, I bought my first lathe here because it was the perfect size for me. Plus, you can always upgrade later as your skill level grows (though be careful not to buy an overly large lathe if you don't have the space)!
Summary of the Best Wood Lathe under $500
Although the WEN 3421 is considered the best wood lathe on the market, you should consider that the locking mechanism may fail your expectations as you have to tighten the wood now and then. The Shop Fox W1704 is an essential benchtop lathe, but the alignment will probably frustrate you. However, these wood lathes under $500 are much better than the most expensive lathes on the market.