When you build furniture out of greenwood, there's always the risk that the wood will split as it dries. This can ruin a piece of furniture and be difficult to repair, but there are ways to avoid the issue altogether with just one small investment before you begin making your project. By using some simple wedges to keep wood from splitting while it dries, you can prevent this problem and make your projects look better in the end. Let's take a look at how to keep green wood from splitting and see how it works and what you need to do before cutting your wood pieces!
You can take certain precautions that can slow down or prevent splitting based on your particular circumstances. Two other common reasons for wood splitting include impact and mechanical force. In short, if you drop a piece of wood on its end or hammer it into shape, you might be surprised at how easy it splits. Understanding why something happens, however: That's half the battle. If you know why it's happening, you're better prepared to prevent it next time around.
What Causes Green-Wood to Split?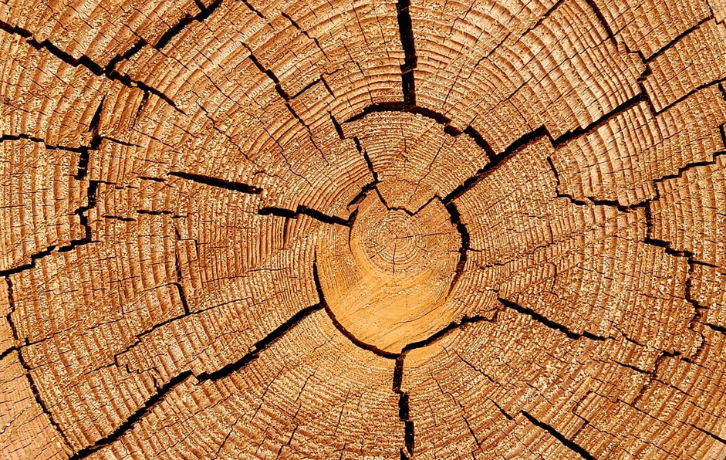 There are a number of reasons why your greenwood could be splitting, including insect damage, mold or rot, incorrect drying methods, under-seasoning, and more.
Some greenwood (not all) when dried may develop splits in it. The main reason why it may happen is because of changes in moisture content and temperature within your environment.
Just like any other piece of wood, green wood dries out over time due to a lack of water. As it dries out, gaps in between its cells expand which makes room for more water.
When there is too much moisture inside those cells they fill up with water once again causing them to shrink down causing pressure between those cells' walls or even worse causing some parts of them to break apart.
So what you have here is a piece of wood that can't decide whether it wants to be hard or soft and as a result of constant change and expansion/contraction cracks start forming on its surface leading to splitting at these cracks.
However, there are a few steps you can take to prevent your greenwood from splitting. By keeping an eye on things and making sure these conditions do not occur, you will have an easier time working with them while also ensuring that it remains whole and functional. Here's what you need to know.
How to prevent the wood from splitting using products
1. Seal the blanks as soon as you cut them
Properly sealing greenwood is an essential part of keeping it straight, strong, and free of cracks. The sooner you seal it, however, the better. When greenwood is exposed to the outside air (which has a lot of moisture), it will dry and shrink which results in cracking.
What sealing does is that it forms a layer that will prevent moisture from coming into direct contact with the open ends of the wood. This will stop the drying and shrinking of wood since it will be free from moisture.
The most recommended and personal favorite is the Anchor seal. It is the perfect answer for this problem.it is applied at the open end of your wood. It Controls the rate of moisture loss to help prevent up to 90% of drying splits.
if you are unable to purchase anchor here is another solution
Here's what you need:
a simple mixture of latex paint (any color) mixed with linseed oil or Turpentine,
a paintbrush or cloth rag for application;
several small containers;
and a sanding block or 120-grit sandpaper.
-Apply a coat of paint/oil mix liberally with either brush or cloth, using plenty of strokes along the entire length of each blank.
-Follow up by running your hand along each edge to remove any excess that didn't penetrate deeply enough into the end grain (you may want to wash your hands before doing so).
-Use as many coats as necessary—and allow them to dry completely between applications—until your blanks feel thoroughly sealed and no longer tacky when handled.
-Once completed, allow your pieces to cure for two or three days in a warm environment out of direct sunlight before further working on them.
You can also use Minwax stain in place of latex paint if you like darker tones.
2. Apply linseed oil to your finished piece:
Linseed oil helps dry woods to contract without creating stress on their cellular structure. This allows for gentle shrinking and swelling without a dramatic change in size, keeping cracks at bay. Don't apply linseed oil until after your piece has dried though!
The process of applying linseed oil
The first and most important part is sanding– don't apply it until after you have thoroughly sanded (and re-sanded) your entire board to get rid of sawdust; otherwise, your new planks could end up looking like they were painted white on one side only!
Using sandpaper with fine grit, sand the open ends of the wood surface lightly towards the direction of wood grain
 If you are working with the logs that have barks on them, sand the two ends only. If it is a board, sand the entire board.
After you are done with the sanding, wipe away the specks of dust from the sanding and carefully apply boiled linseed oil with a brush to the sanded surface.
Allow your piece to dry in an open place but free from direct sunlight since direct sunlight will cause damage to the oiled wood.
Precautions: wear gloves when applying oil so that you don't stain your skin yellow.
If you don't have linseed oil with you, we recommend that you purchase the Sunnyside Corporation 87216 1 Pint Boiled Linseed Oil.
Advantages of Sunnyside Linseed Oil
It absorbs very quickly into the grains of wood
it dries to touch quickly
it is not tacky and is odorless
3. Use of paintable wax
Freshly planed lumber tends to have a good bit of wetness still trapped in its end grain; even if it didn't come from your local big box home center, chances are that wet wood passed through many hands-on its journey from tree to the construction site. This extra moisture can cause much grief as it interacts with natural movement in boards—most notably end grain swell and shrinkage—causing warping and cracking over time.
Before you do anything else, you'll want to make sure your lumber is sealed against moisture. Because it's not pressure-treated or kiln-dried, it can absorb water like a sponge.
To help prevent splits down the road, apply a coat of paintable wax before using your new lumber. A high-quality wax like BLO will seal out moisture while also making your timber easier to work with when you start building your DIY project. (This should be done in a well-ventilated area.)
Other methods used to Prevent or minimize Wood from Splitting
Here's what you need to do!
The most common reason that pieces of the natural wood split are due to a change in moisture content. As sapwood dries, it shrinks and tension is created. Eventually, wood will splinter.
4. Expose your green woodwork to direct sunlight regularly:
Sunlight encourages drying, but take care not to let any object directly exposed to sunlight get hot. Over time, direct exposure may cause warping of your project. Letting a piece sit directly in sunlight over several hours is usually safe. If possible, rotate your work so all sides evenly benefit from indirect light.
5. Avoid aggressive bending:
Bending boards into curves can be problematic if done improperly—pulled too quickly or with too much force (particularly with rough cuts) may leave your board susceptible to splitting when cut into smaller pieces later down the line.
6. Atmosphere & Environment
The ideal environment for drying wood should be warm and dry. Warmth increases both evaporation rate (wood drying) and heat content within the air itself making dried wood feel harder than if it were done in cool temperatures.
On top of that, you also need to consider humidity levels
as well warm air also contains higher amounts of humidity (water) meaning an increased risk of uneven moisture content within your dried pieces compared to a same-sized piece being dried under dryer conditions.
7. use the wood as soon as possible
Green, unseasoned wood is prone to cracking and splintering, which in turn can lead to major problems later on. Lumber that sits too long will begin to crack and split as it dries out. If you don't have a project in mind for your lumber, cut it into firewood. Stack that firewood up next to your house or in a garage—not outside—and cover it with plastic or an old tarp.
8. Keep the wood moist
Though it's tempting to do so, don't allow your freshly cut logs to dry out. Doing so can cause them to crack or split, which is one of your primary problems with greenwood. Keep these materials covered in a shaded area until you're ready for them; when working with large pieces of lumber (like tree trunks), consider placing a tarp over them during transit.
Conclusions on ways to keep green wood from splitting
Knowing what causes wood to split is a good first step in trying to prevent it. Some woods are naturally more prone to splitting than others. Also, some cuts of wood cause faster drying than others. The faster the wood dries, and especially if it dries unevenly, cracks can occur on larger or longer pieces of wood—causing them to split along their grain.