What is relief carving? It is a form of art in which designs and sculptures are directly attached to the background.
It involves using special techniques and tools to carve figures and designs in wood, stone, or metal. The process of carving can be time-consuming and laborious, especially when using stone and therefore it is recommended that you use wood which is relatively simple and easy to work with.
Whether you are a beginner or a professional and you are interested in relief carving, then this guide will walk you through all the basics of relief carving, including the materials you'll need, different types of tools you will use, and tips on how to get started on your first project.
Types of Relief Carving
There are many types of relief carving, just as shown below.
1. High Relief Carving
This is also called relief carving in-depth due to its many requirements. In this type of sculpture, the designs or figures are curved past the halfway mark of the wood circumference. Therefore for better results, the thickness of the wood used should be twice as big as the project you wish to create.
2. Low Relief Sculpture
Also known as Bas relief carving. It is the simplest form of incised carving with the background cut away. In this kind of relief, the designs are slightly raised from the ground with less or no undercuts. In most cases, Bas relief is used in designing geometric or stylized patterns.
3. Pierced Relief
It is one of the uncommon relief carving styles that require making holes inside the block. Pierced relief works best on thinner panels but it requires a lot of time and skill to produce a unique project and not break the wood panel
4. Deep Relief Wood Carving
It is also known as sunken relief. This kind of relief is always the most difficult and intricate in both detail and craftsmanship and therefore requires a lot of effort to come out with a unique piece of art. In deep relief, the carvings are made deep inside the woodblock and always appear like an illusion.
Sunken reliefs wood carving are similar to high reliefs but the difference is that with sunken ones the background is left intact on the surface of the project.
5. Undercut Relief Carving
It is a carving technique where the wood under the edge of an element is removed to create deeper shadows for a more dramatic presentation. Undercut relief usually is more complex than pierced relief and it gives an end project that has a wider surface and tighter structure. The tools used to accomplish that kind of relief are a bench knife and gouges.
How To start Relief Carving
Depending on how deep or high you wish your carving to go, you should understand that each relief carving requires different techniques and different blades in the toolset.
Best Tools For Relief Carving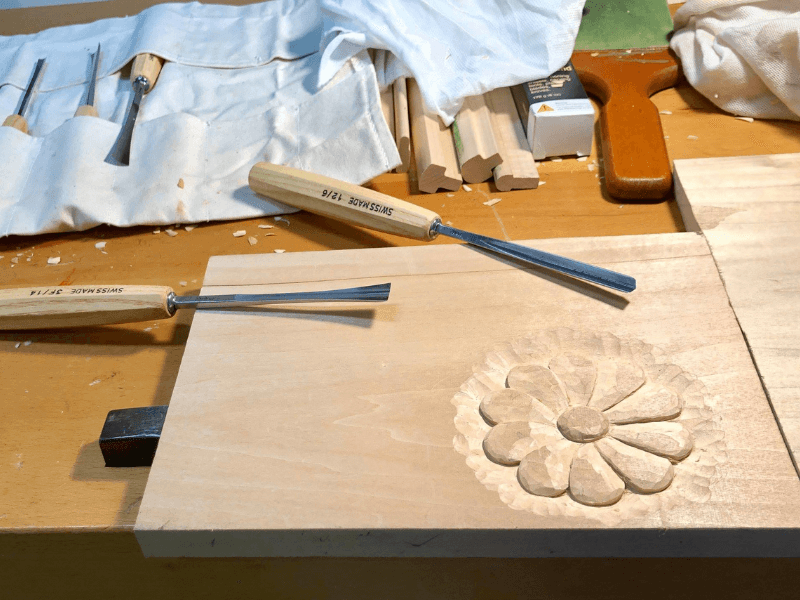 Irrespective of the material you have chosen for your project whether stone or wood, it is good to know that all carvings work requires sharp tools. The tools include.
1. Chisels
They are used to scrap wood from the wood panel. Since every wood carver already has chisels in their toolkit, then it is a matter of choosing the right one. Larger chisels are used in removing a large number of materials while smaller ones are used to remove the thin top layer and that's why they are mostly used in low relief.
2. Gouges
They are used to make smooth rounder cuts. There are different types of gouges such as fishtail gouges, spoon gouges, U-shape, and V-shape gouges. All the gouges work best but on different types of relief carving.
3. Mallet
It is a tool used to apply pressure to the wood and speed up the process of the work. It is preferable compared to gouges and chisels due to their stronger effects.
4. Drill and a Rotary tool
They are versatile power electric tools used to spin bits, burrs, and carve shapes and images into wood blocks precisely. They are mainly used in power relief carving.
5. Rasps
They are reduction and shaping tools that are rubbed across the surface to smoothen and fine shape it.
6. Pencil
It should be the first tool used by every relief artist. It is used in sketching out the design of the material chosen.
Now that you know the materials used, let's look at how to do relief carving.
Steps on how to do relief carving
In this guide, I will show you the main steps that are common in all relief carving projects.
1. Create a pattern
The first step is to create or find a pattern, it can be geometric patterns, flowers, or fish. it doesn't matter whether you download free relief wood carving patterns or draw your own. The method of carving will be the same.
2. Prepare the wood for carving
Using bar clamps on each side lay out the wood panel on a desk or a bench. it ensures that the panel is fixed and it cannot move.
3. Transfer The pattern To The Wood
Trace the design onto the wood or use an adhesive temporary bond spray to attach the pattern. Using a ruler or a marking gauge draw a line around the area of carving.
4. Outline the depth of your project
Using a v-shape gouge make deep cuts and lines in around the pattern to make smooth flowing lines. use a skew chisel to create stop cuts at the corner. Make sure not to go deeper than 50% of the wood thickness to prevent warping and cracking.
5. Removing the excess material from The Wood Board
Use a sharp flat gouge to slice across the grain carefully so as not to go below the marked wood thickness. Remove the torn grains and any ridges to give the sculpture physical depth and a better view.
6. Carving in Detail
Here is where you update the sketch on your piece of wood. Repeat your previous technique using a chisel or a gouge to make finer detailed parts. All this while making sure that you leave the shapes that will be in the foreground of your sculpture untouched.
7. Clean up
After carving in detail, take a fine sandpaper and use it to peel off the pattern and remove any adhesive residue. If there is any stubborn adhesive, use mineral spirits to remove them.
8. Finishing The Project
Use a wet cloth to clean the whole wood and remove any forgotten wood. From there use matte acrylic varnish or any wood stain of your choice to give your surface a light sheen.
Best Wood for Relief Carving
There are no big differences in the wood type used in relief carving. However, it is recommended that beginners should start with soft wood such as white pine, butternut, and basswood. This is because the woods are affordable and easy to work with.
When you become a pro in relief carving, you can now use more challenging wood types such as mahogany and Marple that are difficult to carve. But remember it is not advisable to start with a wood that is not responding well to relief carving tools.
Essentials for Relief carving
They are things needed for your relief carving project. They include the right set of tools, a wood panel, and a design for your desired project. You should also ensure that you have enough space in your workshop.
Tools needed for relief carving are chisels, gouges, and mallets. If you wanna work with power tools then you can use a rotary. Ensure that you have different sizes of chisels and gouges for wide and detailed carving.
Softwoods are the most recommended wood type for relief carving because they are easier to shape and aren't prone to warping. Choose a wood type that will show less resistance while digging into it.
Bottom line
The type of relief carving pattern you want to create will guide on which shapes to carve into the wood and since wood relief carving is based on the idea of engraving simple designs and shapes on panels to create beautiful artistic images then you have to be very careful while working on your project.