Using a heavy-duty chainsaw for small-scale lumberjack tasks such as trimming offshoots or pruning long branches would be illogical. You are better placed to complete such light-duty projects with a mini chainsaw. 
Typically, mini chainsaws are significantly smaller than the traditional hulking models. However, they pack sufficient energy for most in-house tasks and are tiny enough to handle narrow workspaces.
Here are some of the finest mini chainsaws for you to consider.
Types of Mini Chainsaws
Mini chainsaws come in different shapes and styles. The most standard difference between these varieties is their distinct power sources. They fall into three categories: gas-powered, battery-powered, and corded electric mini chainsaws.
Gas-Powered Mini Chainsaws
A mini gas chainsaw packs more power than other types, making it easy to rip through the wood. However, maintaining this variety is a tedious job. The air filter needs regular cleaning, spark plugs should be replaced, and you must maintain the right mix of oil and gas at all times. Such mini chainsaws are also often smoky and exceptionally loud.
Corded Electric Mini Chainsaws
While these mini chainsaws can handle most of the same lumberjack operations as gas-powered chainsaws, they are limited in portability. They are best suited for tiny yards due to the cord's limited reach.
Battery-Powered Mini Chainsaws
Battery-powered mini chainsaws use lithium-ion batteries to facilitate their operations. They provide operators with the portability of a gas-powered saw and the low maintenance of a corded electric chainsaw. On the flip side, they are more expensive than other models.
The Black+Decker LCS1020B 20V max cordless chainsaw is the most prime mini chainsaw model. Compared to other models, the Black+Decker LCS1020B is more convenient, more portable, and packs a lot of power for a mini chainsaw.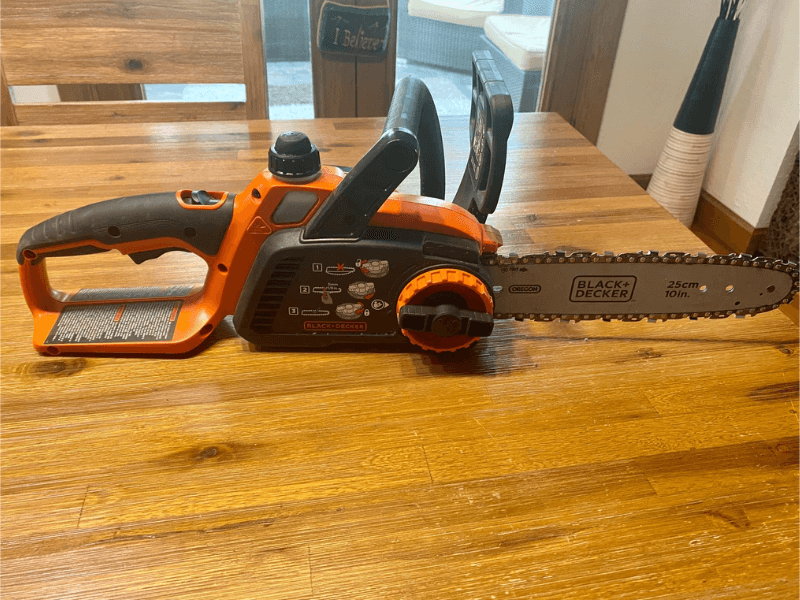 Power Efficiency & Cut Capacity
It features a 10-inch long premium Oregon bar and chain, very capable of slicing through 12-inch wide wood logs. This impressive cut capacity is powered by a 20V max lithium-ion battery that generates 3.5 horsepower and has a run time of up to 60 minutes. Despite being a mini chainsaw, this unit is capable of outperforming many of the larger varieties.
Convenience
Convenience is another striking feature of the Balck+Decker LCS1020B. It has an inbuilt oiling system that removes the hassle of repeatedly oiling the chain during cutting. The bar is also designed for a low kickback to facilitate seamless and smooth cutting. There is also a chain tensioning knob for tool-less adjustments.
Lightweight Design
While the lightweight design is a standard requirement for all mini chainsaws, the Black+Decker LCS1020B has taken this feature to another level. It is among the lightest units in the market, with a dismal weight of only 7.5 pounds, and features a wraparound handle for added portability. Additionally, this Chainsaw comes with a dust extraction kit with a dust tube and hood to safeguard it from adverse working conditions.
Coming in second place is the Sun Jose SWJ807E convertible pole chain saw. Compared to the Black+Decker LCS1020B, this unit is less powerful and portable. However, its reach and versatility are unmatched.
Cut Capacity
This Chainsaw features an 8-inch blade that runs on 8 Amps of corded electric power and can slice through 9.5-inch thick offshoots or branches. An outdoor extension cable is a must-have, limiting this Chainsaw for use within small yards.
Versatility
Nonetheless, this 2-in-1 Chainsaw offers impeccable versatility. It comes with an 8.6-inch long telescoping pole that provides users with an overhead reach of up to 15 ft. With this extension, you can easily cut overhanging branches and maneuver through thin brushes without much hassle.
Other notable features of the Sun Jose SWJ807E include a guard rail that safeguards operators from flying debris, a handle lock, an ergonomic non-slip pole handle, and an inbuilt oiling system fully fitted with a window gauge and a safety switch to prevent accidental starting.
If you are looking for a competitively priced mini chainsaw that offers maximum value for your hard-earned cash, the Gocheer 6-inch cordless Chainsaw is the Pick of the bunch. For less than $80, you get a highly portable, efficient, and easy-to-use chainsaw for light-duty lumberjack projects.
Lightweight Design
Its exceptionally lightweight design is a standout attribute of this Chainsaw. The unit is as light as a feather, with a little weight of 1.5 lbs. Moreover, it also features a safety lock and an ergonomic non-slip handle to protect operators from handle spillage as well as accidental starting. Given its impressive lightweight design, you can comfortably use a single hand to operate this equipment, thus making it ideal for tight spaces.
Power Efficiency & Cut Capacity
In terms of power efficiency, the Gocheer 6-inch cordless Chainsaw is powered by two 2500mAh, 24V high-capacity lithium-ion batteries. It operates at a speed of 13.2ft/s, enabling you to cut through a 6-inch wide branch in less than 10 seconds. Also noteworthy, this unit has a maximum run time of 1 hour and a reasonable charging time of 1 hour 30 minutes.
Check this article on the best Budget Chainsaw.
What is the Difference Between Mini Chainsaws and Small Chainsaws?
Most people use the terms small chainsaw and mini Chainsaw interchangeably. In reality, however, these two types of equipment are very different, especially regarding their intended use.
Mini Chainsaws
This chainsaw variety is typically smaller than small chainsaws. They are mostly designed for single-hand usage. Additionally, their targeted uses include light duty operations such as yard trimming, offshoot pruning, and landscaping, as they have shorter blades of around 6-10 inches.
Small Chainsaws
This chainsaw variety is similar to full-size chainsaws but takes on a more compact design. Their chains range from 10 to 16 inches and are handheld using two hands. Their targeted uses include more demanding tasks such as cutting firewood or slugs.
check this article on Chainsaw for oak trees
Conclusion
On the whole, mini chainsaws are best suited for the less arduous in-house lumberjack operations. The Black+Decker LCS1020B 20V max cordless chainsaw is the most powerful, most portable, and most convenient of all mini chainsaw models. Another notable pick is the Sun Jose SWJ807E which has the added advantage of a pole extension for added reach and is built for convenient handling. However, it is less portable because of its corded power input and does not match the Black+Decker LCS1020B's impressive cut capacity. Regarding budget options, Gocheer 6-inch cordless chainsaw is the Pick of the bunch.