If you're new to whittling, you'll need to learn how to use the right tools before you start on any whittling projects. Whittling kits come with all the essential tools you need to create intricate sculptures out of wood.
This guide will help you find the Best Whittling Kits for Beginners, as well as give you pointers on which tools are essential and which are optional. If you're ready to get started, read on!
1) The best whitling kit for beginners
One of my favorite hobbies is whittling. I started a few years ago, and it quickly became a major pastime of mine.
Whether you're a complete novice or an expert looking to try something new, here are some great tools to get you started with your very own whittling hobby!
First off, you'll need some wood – but don't let that stop you from having fun. Remember, it's not really about whittling as much as it is about working on a new craft!
Any kind of wood will do – though be sure to avoid softer woods like balsa if you plan on using these beginner kits for advanced projects down the road.
We wrote a detailed review on selecting the best wood for carving check it out here
For a beginner, the best choice kit for whitling is BeaverCraft 's Whittling Kit for Beginners. This set comes with three blades, 6 SantaVerde bandaids, a piece of leather strap, and honing compound.
For their price, the kit feels premium and actually does a good job, this is why it's our best whittling kit for beginners. The BeaverCraft kit may not stand for top brands like Flexcut but given its price tag, it's really a good choice for someone who is getting started.
It's good to remember that tools have a learning curve therefore it takes time to master how to handle them. BeaverCraft's Kit is an affordable starting point for a beginner carver.
Check out the best wood carving books for beginners
2) Great Value Kit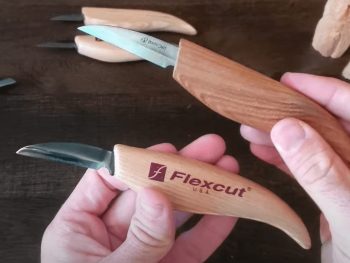 Though you're just starting out, you may still want something that will last. There are so many options out there, and everyone is telling you they have the best whittling kit. While most of these kits may offer great value, not all of them offer great quality.
If you find yourself going back to an old favorite—and maybe even sharing your skills with others—then congratulations: You have found a great-value whittling kit!
I have always loved my Flexcut whittling kit. and it's not just the strong blade made from a 1095 spring steel, but even the feel of the handle on your hands.
I have used my set for a long time without any trouble. while this is relative I highly recommend checking it out if you're looking for a great product without minding digging deeper in your pocket.
Chances are, if it still makes it onto your shelf several years later, you won't want to use anything else when working on new projects in need of some wood trimming or craft sanding.
And whether or not that old box gets passed down in generations like your grandpa's hand saw (another example of outstanding value), what really matters is whether you enjoy using these classic carvers in your bench.
3) Best Professional Wood Carving Tool kit
Whether you're a whittler or a survivalist, there are a few basic things to keep in mind when shopping for a whittling kit. The first is, don't buy anything too small. A good size to aim for is 7-10 inches overall length. You want something substantial enough that it can handle larger jobs, but not so large as to be unwieldy.
Wood Carving Knife: These knives should have two sharp edges and an ergonomic handle. What separates these from normal kitchen knives is their thinner blade; woodcarvers need something with more precision than big chopping cleavers.
They should also feature guards on either side of the blade to protect your hands from slipping forward during use. Finally, they need a tapered end (called a spear point) for detail work.
The best whittling kits for professionals
Augsun wood carving knives are made of quality carbon steel and electrolytic coating, making them solid and firm. The wood carving tools set comprises 12 different shape-size gauges. this is the kit to get once you are already familiar with carving. It's the kit to see you from armature level to pro.
All of them are compact, safe, and sharp that provide you with a great experience. The handles are really important when buying a carving set, and the handles of these knives are highly ergonomic. Most people use these in their holidays, and hence you can make your holidays enjoyable with this particular set.
PROS
The carving knives are made of quality carbon steel and electrolytic coating
The knives are durable and easy to use
The handle is ergonomic making it easy to old
CONS
The quality of blades is average
The Elemental kit includes a hook knife, sloyd knife, detail knife, polishing compound and strap, wood spoon blank, cut resistant gloves (fits most hand sizes), and display box. It also features a spoon carving kit organizer that keeps your spoon carving instruments securely and together in their slots.
With the help of this set, you can start your work with spoons and work your way up to carving bowls or kuska. The possibilities are endless with this carving tool. This is a highly flexible set as it contains everything that you need to carve in one package.
PROS
All of the knives are constructed using high carbon 65MN steel and black walnut handles
You can carve intricate designs in tight spaces easily with this knife
CONS
The sharpness of knives decreases wit
This Gimar upgrade 12 set features small, safe, sharp knives. Regular use of this set allows you to become a professional from a beginner in no time. It is made from high-quality SK5 carbon steel that has an electrolytic coating and a razor-sharp blade.
The set is quite sturdy as it is made up of high-quality materials. It is perfect for general wood carving projects with stencils and patterns. The best thing about the carving set is that it works on linoleum, clay sculpture, and soapstone. Each carving chisel comes with a plastic reusable safety cap that prevents you from harming yourself.
PROS
Wooden handles are well made and sturdy for a comfortable grip
The blades are tightly packed into the handle, and they won't snap off
CONS
The blades are really dull and strangely lumpy
The BeaverCraft set might assist you in beginning your carving journey. It includes everything you'll need to carve. It includes a leather polishing compound, a detail knife, a cutting knife, a roughing knife, and a tool roll to keep your tools organized.
The ergonomic shafts of these knives allow you to work for long periods without being fatigued. The carving kit is created with comfort in mind for individuals who enjoy working with wood. These knives will arrive at you sharpened and ready to use straight away, having been hand-sharpened before packaging.
PROS
This chip carving knife is a great detail knife for chip carving and letter carving
It features a razor-sharp roughing knife that is ready to use the minute you buy it
CONS
The knives are not much sharp
This  12pc wood carving set includes Sloyd Knife leather sheath, Chip Carving Knife leather sheath, Hook Knife leather cover sheath, Cut Resistant Gloves, Wood Carving Spoon Blank, Leather Strop, and Polishing Compound.
The handle of the tool is made of high-quality hardwood that is smooth. It allows you to perform better with every use. Moreover, it provides an ergonomic firm grip while carving. It prevents your hand from blistering and allows you to work for longer hours, granting complete safety. The set is not only fit for kids and beginners but also professionals.
PROS
The handle is made of great quality hardwood that is highly sturdy
It comes with a lifetime replacement warranty
CONS
They dull too fast, and some of the edges chip away
Whittling Kits for Beginners: A summary
In conclusion, If you're looking to get started in whittling, I highly recommend you check out one of these kits. Not only are they easy to use, but they come with everything you need to learn. Even better, they don't cost too much money either! After all, that's why we love them so much. Happy carving!